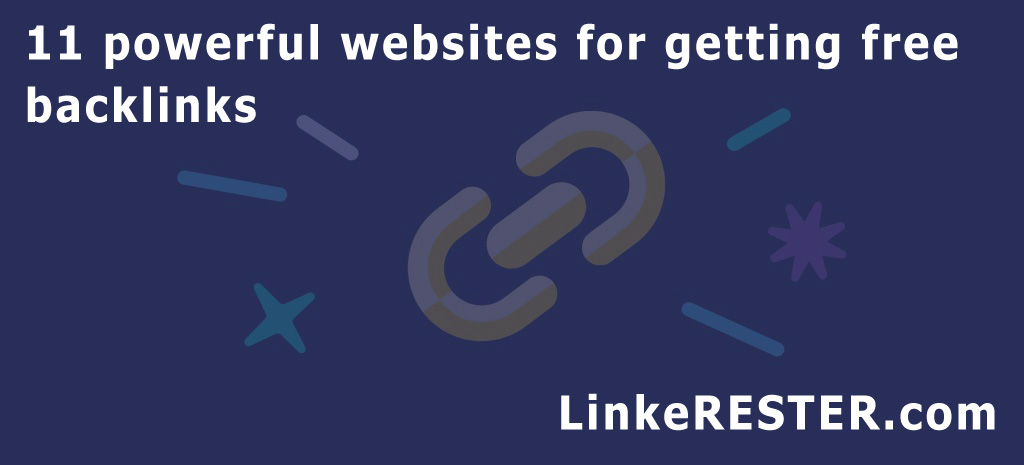 11 powerful websites for getting free backlinks in 2023
If you have ever tried to promote your website yourself, you are probably aware that it is, to put it mildly, difficult.
But the site is needed in order to be seen.
Therefore, SEO optimization is something you cannot do without if you want your site to be visited.
In addition, in order to stay at the top of the search results, you need to carry out this work consistently, carefully analyzing and choosing optimization methods.
In this article, I will not be able to talk about all the subtleties of SEO.
Rather, my goal is to share information about several SEO tools that seriously facilitate the process of providing your site with decent positions and traffic.
Today, we will talk about external links, or rather about how to get really high-quality links to your site.
There are many possible sources and ways to get backlinks, but not all are equally useful, and some are useless or even harmful.
If earlier, the number of links played a decisive role, now mainly their quality.
That is, it makes no sense to post links everywhere, wherever possible, it's a waste of time and effort.
I offer you an overview of resources, links from which will be most useful for promoting your resources.
Social resources are an excellent tool for the formation of a reference mass.
For example, Pinterest, known to many, is today the most popular social bookmarking site.
When you share your content on Pinterest, it not only generates a backlink, but also shows your bookmark to a lot of users, thereby generating a certain amount of relevant traffic back to your site.
Sites like Pinterest and some others that we will discuss here can really help you to create quality backlinks that boost Your website in search engines such as Yandex, Google, Yahoo, Bing, Yandex and others.
Remember that search engines pay more attention to the quality of placement than to the link signals themselves.
Which social bookmarking sites are better to use?
Different social bookmarking sites are designed for different purposes, I will tell you about those that can really help your site.
Since the beginning of 2019, our agency's specialists have analyzed many sites that allow the publication of content and links, and compiled a working list of truly powerful donors.
Some of these sites are very popular, and therefore you already know.
List of the best sites for getting backlinks:
Pinterest has 175 million average monthly traffic, approximately 80 percent of users are women.
At the moment, more than 50 billion pins have been published on Pinterest.
This is a great platform for hosting your content that includes an indexed link.
There are a lot of interesting materials from designers, artists, companies that produce products, there is a search by queries and by tags.
Twitter, with its 335 million monthly active users, is amazing.
It may not be the most convenient site for posting content, but having a huge user base, Twitter is a great place to publish announcements and links to attract traffic.
Individuals and companies, without restrictions, can use it for free to post links, announcements and images to which you need to quickly attract attention.
Mix is a relatively young, but already one of the most popular bookmarking sites.
Previously, until June 2018, it was the now-defunct StumbleUpon service.
It is so simple and intuitive to use that almost everyone likes it.
Dribble is a great place to get SEO backlink for your website.
Dribble is created for creative people.
If you are interested in graphic and visual design, then it suits you even more.
Pocket is another great platform for getting backlinks to your site.
Registered users of Pocet save links in bookmarks, which remain on the site forever and allow you to return to them at any time.
Another important factor, in my opinion, is that the links stored in Pocet are available for viewing, even without an Internet connection.
Folkd is also a convenient bookmarking website that uses a unique social search functionality that works on the principle of search engines.
The more the link gets folksy (votes), the higher the search ranks it.
Reddit is without a doubt one of the oldest and best social bookmarking sites.
Here, each user creates his own list of bookmarks, which can be commented on, increase or decrease the rating of publications.
Reddit is an indispensable tool for quickly promoting your own website.
Don't forget to share your links on reddit.
Slashdot is a great option for publishing your own materials and links.
The Slashdot service is more technical in subject matter, closer to games, cloud computing, computer hardware and security management.
Scoop - offers a convenient solution for creating links, with the possibility of tracking and predictive analysis of publications.
The site offers two types of use - free for individuals and a paid option for businesses.
Diigo is a social bookmarking site for students, students and their teachers.
A feature of Diigo is the ease of publishing and tracking materials.
Diigo is ideal for publications on statistics, analytics or any kind of research.
Everything is simple in Pearltrees, this makes it stand out among the sites where you can create collections of your favorite links.
I draw your attention to the fact that the links in the above sources should be placed wisely, and if possible, surround them with original text and illustrations.
Date of publication: 25.06.2022